Winning At Home
Social Work Nonprofit
TAG The Architectural Group
GDK Construction Co.
When Winning At Home felt the call to expand into Holland, Michigan, it wanted diverse ethnicities and social classes to feel welcomed, valued, and at home in a bright, lively, high-energy environment that supported separate adult and child therapy centers. They felt pulled to a downtown 100+ year-old building that served multiple purposes over the years – from funeral home and church to barber shop and museum – with DIY demolition and construction predominant in the building over the years. Taking the building down to its exterior walls, Winning At Home renovated the space into a two-story multipurpose space, which houses adult clinical spaces on the main floor and children's play therapy on the second floor.
Winning at Home selected Fleetwood Furniture because of its practical good looks, flexibility, functionality and durability. The staff enjoys the products' easy mobility which allows them to customize their counseling offices, while the kids love the fun color palettes, markerboard surfaces and soft seating options which blend with the custom life-size, three-dimensional trees and boats in the play therapy area.
"It represents so much prayer. It was a labor of love. We really value the relationships and investments of people's hearts. Everyone captured the heartbeat of the project. We wanted to bring that to the community."
The Opportunity
Flexible spaces that can be quickly modified and tailored to individual counselor goals
Spaces that are high-quality – yet unpretentious – so clients feel valued and comfortable
Inviting, fun, bright, tactile environments that are uplifting and encourage interaction
Tough, durable spaces that stand up to wear and tear
The Solution
Non-rigid furniture that morphs to meet changing needs
Same basic tables at home in both the adult clinical space and the children's play therapy area to create continuity within the space – but sized appropriately for clients
Functional furniture that creates a pleasing environment while supporting therapy efforts via whiteboard surfaces and easy-rolling casters.
Fun fabric color palette that makes the soft seating – stools and bean bags – inviting and playful for little ones.
Rugged furniture that looks great over time, cleans easily, and enhances the quality feel of the space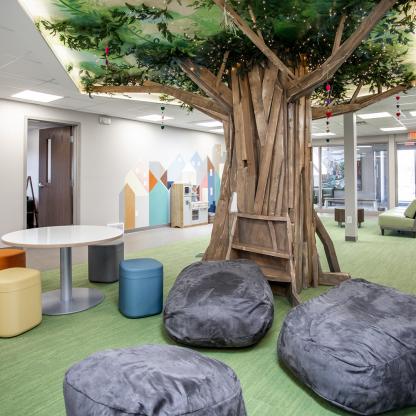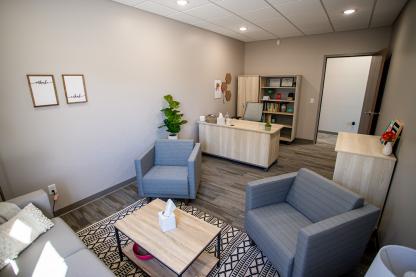 Product List
Tables: Unitized frame, pedestal, desk, flip & nest
Storage: Designer Collection, Illusions Collection
Seating: Rock, Soft Rock stools, Soft Rock floor cushions, Soft Rock bean bags