Rehoboth Christian Schools
Education
AMDG Architects
LAM Corporation, Rockland Construction
Rehoboth Christian School, a ministry to the Native American people since 1903, is both a multicultural and economically diverse pre-K to 12th grade school. Committed to building students up intellectually, spiritually and emotionally; Rehoboth is located on 700 acres and houses educational buildings, trails, observatories, a ropes course, and even a cemetery.
In its old school, the science classroom was shared between two teachers, creating many workarounds and less than ideal conditions. So, when the school built new facilities, these classrooms received special attention. Outdated, dilapidated furniture was replaced with Fleetwood's adjustable height tables, presentation carts, and stools in the life sciences and chemistry rooms. Not only did the rooms seem more spacious, but the students' postures and interaction levels improved.
"There used to be some sleeping going on in the old classroom. These kids have a long day with up to 1-1⁄2 hour commute. Being higher at the desk helps students sit upright more, and the stools let the kids wobble on them with distracting others. Kids will also get off the stools and stand by the desks."
The Opportunity
Furniture that empowered student engagement
Dedicated science spaces vs. shared spaces that had to continually morph between classes
Furniture that would stand up to wear and tear
Flexible furniture solutions that could be moved easily
The Solution
Rock stools opened up the classroom's footprint so students have room to move and aren't crammed together
Rock stools elevated students – promoting upright posture and allowing students to change between sitting and standing easily
Rock stools modulating seat pan allowed students to wiggle without distracting others
Rock stools let students rotate on the seat easily, which creates a multi-directional learning experience and promotes teaming with students seated behind them
Standing-height solutions helped teachers be eye-to-eye with students and minimize bending
Mobile tables allowed one table to perform multiple functions
Presentation carts helped keep teachers organized and materials nearby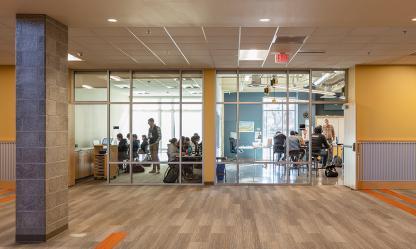 Product List
Rock stools
Unitized frame tables
Library
Designer Collection storage, including presentation carts
Encore Collection
Flip and Nest Tables
In addition, the teachers noticed more unintentional group work and less regiment. They saw students swiveling around to work with students behind them or pulling additional stools into a group versus spreading out over the room. This improved the sense of community.
The teachers benefited from the new furniture, too. Not only did the furniture eliminate the frustrations of dealing with poor quality chairs and desks, but it also helped them stay better organized, interact easier with students, and improve their personal ergonomics.
"I'm 6'5" and had a really hard time helping students. I was always bending over. Now, the kids are eye-to-eye, and I can stand up to talk with them or help them."