Portland Public Schools
Education
School Specialty
Bora (Faubion School)
Portland Public Schools, founded in 1851, is a PK-12 urban school district in Portland, Oregon with more than 49,000 students in 81 schools, making it one of the largest school districts in the Pacific Northwest. It focuses on equality and excellence so that every student is prepared for college, career, and active community participation, regardless of race, income, or zip code.
While Portland employs many strategies that improve efficiency and effectiveness, the district, a long-term Fleetwood partner, harnesses mobility to create solutions that are simple and flexible for students and teachers, while making facilities management more efficient. For example, students can easily move tables and storage during class, and cleaning crews find mobility speeds daily cleaning duties.
Mobility also supports equipment sharing. For example, a teacher collaboration space houses a "lending library" of science equipment on mobile storage. This sharing minimizes equipment costs and the real estate space required for dedicated equipment in every room.
Finally, mobile furniture gets Portland schools up and running more efficiently since furniture rolls off the truck assembled, saving installation time.
"Fleetwood product usually comes off the truck ready to go...which decreases installation time. It's also very durable."
The Opportunity
Consistent and complete offering with long-lasting color palette so furniture can be repurposed, and environments harmonize
Durable, rugged solutions that hold up to abuse
Easy and simple for students, teachers, and facilities to use daily and long term: ordering, installing, moving, cleaning, maintaining
Custom applications to meet unique needs
The Solution
User-friendly flexible furniture that works together simply and easily
Highly mobile storage so teachers can share resources between classrooms
Effective spaces sooner – furniture rolls off the truck with minimal installation
Long-life attractive spaces because of focus on adaptability, durability, and color palettes
Better ergonomic solutions for custodial staff – easy moved when cleaning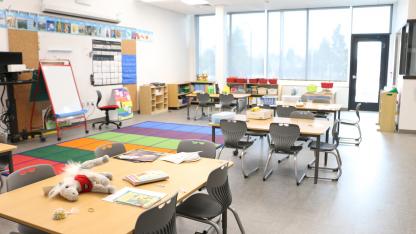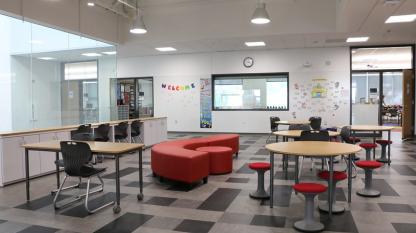 Product List
Tables: Flip & Nest, Unitized Frame, Makerspace and Science
Storage: Encore, Designer, Illusions, Learning Wall and Sheerline Collections. Custom solutions
Seating: Rock stools
This high level of mobility and adaptability means different furniture types must work together seamlessly both functionally and aesthetically.
"We like the simplicity and utilitarian ease of most of Fleetwood's line, said project manager Rolando Aquilizan.
It's a full line, and the finishes are the same, all the pieces work together when we put everything together," said Ayana Horn, Project Manager.
Horn also called out Fleetwood's architectural furniture and custom capabilities. She noted that Illusions and Learning Walls products are more flexible than traditional casework and serve the school better.
Regarding specials, she said, "Fleetwood is always super responsive to design changes." Horn modifies products to meet unique needs, relies on Fleetwood archives for long-term custom duplication, and enjoys seeing her specials become Fleetwood future standards.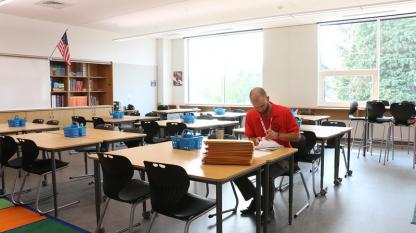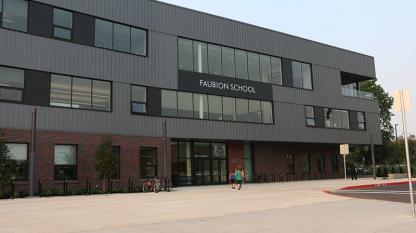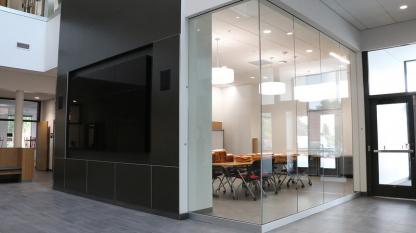 Faubion School creates an inviting, multi-cultural environment where students and staff move easily within and between classrooms.