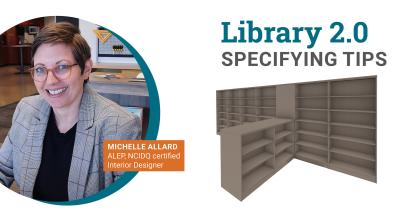 Create a complete library and media center solution with Library 2.0. The new Library 2.0 build-up bookcases share the same platform as Designer 2.0 and Illusions 2.0, so storage heights, widths, and aesthetics align perfectly. Library 2.0 features 100 percent adjustable shelves, easy-to-access 4" high-levelers, and subassemblies to simplify installation. The new build-up bookcases also complement pre-assembled stationary and mobile bookcases, book carts, carrels, and modular transaction desk solutions.
Robin Slenk will lead an understanding of Library 2.0 products and Michelle Allard, ALEP and NCIDQ certified, will lead a demonstration using Fleetwood's CET extension to show Library 2.0's capabilities. Watch for upcoming class dates.
If you prefer in-person group training, contact us and select Library 2.0 Training from the option list to be connected with Michelle Allard or your Fleetwood Learning Environment Consultant to set up a training class.